Exciting news for Avril Lavigne's fans over in Asia! A fourth single is being released for you guys, while a different one has yet to be determined for the rest of the world. While Avril has been busy touring in Asia, she has also apparently been working on music videos and single choices. And one has already been revealed via Twitter. So, what is the fourth single from Avril Lavigne? Well, of course, it's none other than "Hello Kitty"!
Avril Tweeted to a fan a few days ago to confirm the news. One fan asked if there would be a fourth single, to which Avril replied yes. Following her reply, another fan asked for a hint, to which she replied, "2 different ones in two different territories". Soon afterwards, one of her excited fans Tweeted that "Hello Kitty" would be released in Asia, to which Avril reassured them was the case. Fans seem to be enthusiastic about the single's release, with many already creating fake single covers to prepare for the release date of the single, which has yet to be revealed. One single cover in particular has hit the Internet and some fans speculate Avril may be using it as the official cover, although this is not official:
"Hello Kitty" is one of Avril's favorite tracks from the new record, so it's no surprise the song is getting a single release, and rumor has it that due to the poor promotion by her record label Epic for the album's previous three singles, Avril will be releasing "Hello Kitty" and the other yet-to-be-determined fourth single independently and is even paying for the videos. Hopefully both "Hello Kitty" and whatever song is released in the rest of the world both smash!
Listen to "Hello Kitty" below: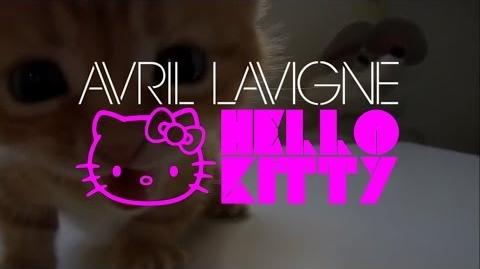 Ad blocker interference detected!
Wikia is a free-to-use site that makes money from advertising. We have a modified experience for viewers using ad blockers

Wikia is not accessible if you've made further modifications. Remove the custom ad blocker rule(s) and the page will load as expected.