Welcome to the Avril Lavigne Wiki, the online encyclopedia dedicated to the Canadian singer-songwriter Avril Lavigne. This wiki is made for the fans by the fans. Feel free to add contributions to the vast sea of knowledge!
Home to 104 articles and 125 images and videos since April 2012.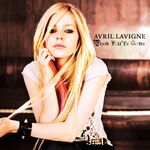 When You're Gone
is a song performed by the Canadian singer
Avril Lavigne
for her 2007 album
The Best Damn Thing
. It was co-written and produced by Butch Walker and released as the album's second single on June 19, 2007. Avril did not intend the song to be a love song, but she was writing a slow song and the process brought out "all that emotional stuff" in her. "It's not cheesy, because I wrote it", she said. "If I was older, a professional writer coming up with all that, that would be lame".
To create a new article, enter the title in this box:
You are welcome to join us and contribute to this wiki. Everyone is free to create a new page or edit an existing one. If you have any questions about the wiki or helping out, you can ask one of the wiki's administrators.
If you want to experiment with editing a wiki, please do it in a sandbox, not in articles.
If you are new to wikis, you may want to read the help page.
If you want to help but you're not sure where to start, try improving the various articles by expanding them.
Another helpful activity would be to check the list of wanted pages for frequently linked-to articles that don't exist yet.
Admins • Create Article • Get Started • Help pages • New pages • Sandbox
Ad blocker interference detected!
Wikia is a free-to-use site that makes money from advertising. We have a modified experience for viewers using ad blockers

Wikia is not accessible if you've made further modifications. Remove the custom ad blocker rule(s) and the page will load as expected.